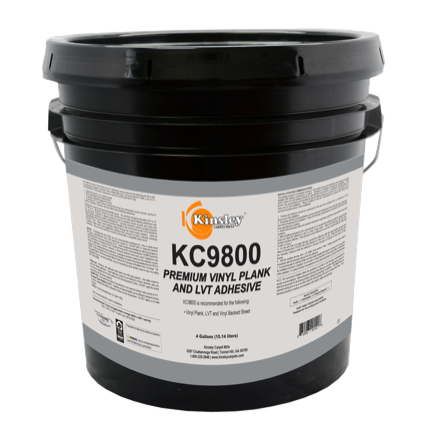 LVP ADHESIVE
Description: KC9800 is a uniquely formulated adhesive engineered specifically for installing solid vinyl plank (LVP) and tile (LVT). KC9800 is moisture and alkali resistant and forms a tenacious, permanent bond. KC9800 is solvent free, nonflammable, contains no carcinogens and is non-toxic. Like all of our adhesives, KC9800 is protected by the CleanGuard® two-stage antimicrobial.
Recommended for use with:
Luxury vinyl plank (LVP)
Luxury vinyl tile (LVT)
Solid vinyl sheet
Rubber tile (up to 24" x 24")
Container Size: 4 gallons
Typical trowel and approximate coverage (depth x width x spacing):
1/32" x 1/16" x 1/32", 250 sq.ft./gal
Contact us for purchasing information!