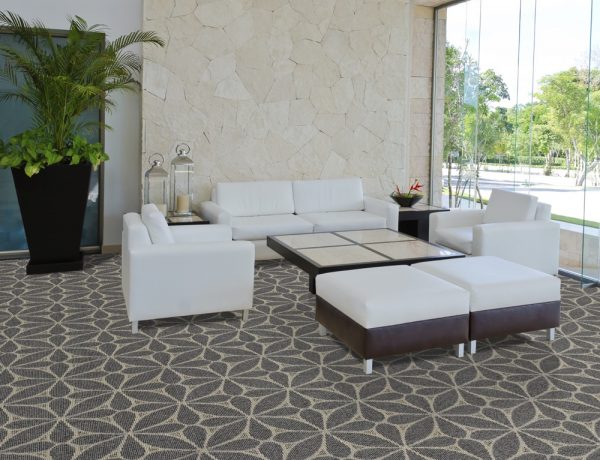 N8007 Gray
NOVA
Recommended for heavy (corridors and other public spaces) carpet traffic levels. Commercial carpet should be installed in accordance with the Carpet and Rug Institute's standard CRI-104. For optimal performance, carpet must be installed over manufacturer's recommended pad. 
Colors
Fiber content
100% SOLUTION DYED KINSLON P.E.T.
Tufted pile weight
36 OZ. PER SQ. YARD
Construction
TUFTED—ELECTRA SERVO (LCL) ENHANCED MULTI-LEVEL SCROLL
Pattern repeat
24"W X 24"L
Width
12' (CUSTOM WIDTHS AVAILABLE)
Backing
HEAVY DUTY ACTIONBAC®
Colorfast
Continuous Filament
Durable Cleaning
Footprint Fighter
Non-Flammable
Soil Resistant
Solution Dyed
Stain Resistant
Water Repellent
10 Year Limited Commercial Wear Warranty
This limited warranty applies only to the original purchaser of Kinsley carpet for commercial installations. Provided the designated carpet has been properly installed and maintained in the specified commercial location in strict accordance with Kinsley's instructions and procedures and subject to the limitations set forth herein, including the specifications and manufacturing tolerances established for the product, Kinsley Carpet Mills warrants to the original Owner, the following:
The manufacturer warrants its carpet for commercial use against excessive surface wear, as hereinafter defined for a period of ten (10) years. This warranty is non-transferable, extends only to the original consumer purchaser, and it commences on the date of proper installation. If the surface pile of the carpet wears more than 10 percent (10 %) in ten (10) years, the manufacturer will either furnish replacement carpet of equivalent quality for the affected are at no charge, excluding installation, or the manufacturer will repair the defect.
This warranty applies only to the carpet and it does not extend to disfigurement or damage caused by abnormal use or any damage to the carpet not arising out of a manufacturing defect in the carpet, including such disfigurement or damage as tears, burns, pulls, cuts, pilling, matting, crushing, floods, natural disasters, excessive moisture, installation on stairs, damage resulting from improper cleaning agents or methods, neglect, or damage in transit; or any condition that would have been visible upon inspection prior to the installation.
To obtain performance of this warranty obligation, the consumer must, within a reasonable time after discovery of alleged surface wear, send the manufacturer proof of purchase showing: the name of the dealer/contractor, the carpet style and the date of installation. The manufacturer must be allowed, at its discretion, a reasonable opportunity to inspect and verify the surface wear.
The remedies provided in connection with this limited warranty are expressly in lieu of any other remedies provided under any other express or implied warranty, INCLUDING ANY WARRANTY BY MODEL OR SAMPLE AND ANY IMPLIED WARRANTY OF MERCHANTABILITY OR FITNESS, and of any other obligation on the part of Kinsley Carpet Mills. This warranty supersedes any additional or inconsistent warranty(ies) set by the dealer, Owner, or any third party. In no event shall Kinsley Carpet Mills be liable for any incidental or consequential damages. No modification of this warranty shall be effective unless in writing and signed by an authorized representative of Kinsley Carpet Mills.
One Year Delamination Warranty
This carpet is warranted for indoor use by the manufacturer not to delaminate for a period of one (1) year from receipt of goods. The following CRI carpet installation standards must be followed for the warranty to be valid.
1. The carpet cannot get WET. This will void the warranty.
2. Pad must be used. Pad recommendation is for a minimum of 8 pounds and a thickness not to exceed 7/16 inch.
3. Separate cushion shall be securely fastened to the subfloor with smooth side up.
4. Separate cushion seams shall be perpendicular to carpet seams or offset by at least 6 inches.
5. Tackless strips shall be not less than 1-inch wide and ¼ inch thick.
6. Tackless strips are to be fastened around the perimeter of the room with a gully slightly less than the thickness of the carpet from the wall, but not to exceed 3/8 inch.
7. Do not place tackles strips across door openings or door sills except where is a threshold.
8. Carpet shall not be stapled to the tackles strip.
9. Before seaming, the carpet should be power stretched at the seam line.
10. Trim all edges used for seaming at least one inch on each side.
11. Seam edges should be sealed with appropriate seam sealer.
12. 4 to 6-inch hot melt tape much be used on all seams.
13. After seaming, the carpet must be properly stretched with the edges hooked to the tackles strips of the starting and surrounding walls with a power stretcher. Use of a power stretcher is mandatory.
Please Note: Some States do not allow the exclusion or limitation of incidental or consequential damages or limitations on how long an implied warranty lasts. The above limitation or exclusion may not apply in some situations. This warranty provides the Owner specific legal rights, and the Owner may also have other rights which vary from state to state. Except for these rights, the remedies provided under this warranty state the limit of Kinsley Carpet Mills responsibilities.