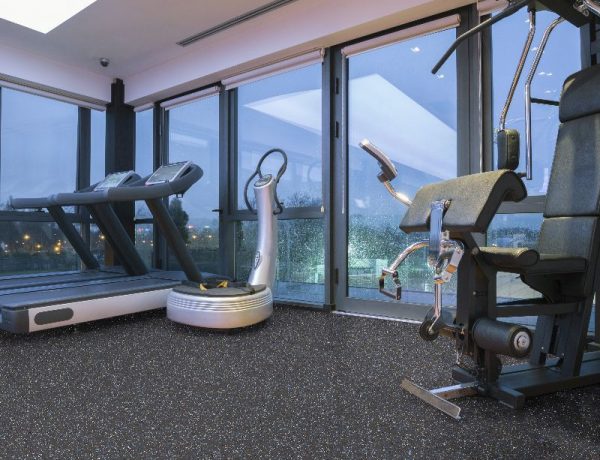 Blue-Gray
Construction
Recycled Rubber Sports Flooring
Overall Thickness
3/8" (custom thicknesses available)
Roll Length
25 ft. (custom roll lengths available)
Installation
Glue or Interlocking
Recycled Content
Extreme Durability
Mildew Resistant
Anti-Microbial
Chemical Resistance
Easy to Install
Stain Resistant
Excellent Sound Suppression
Easy to Clean
12 YEAR LIMITED WARRANTY
Kinsley warrants to the original purchaser of rubber flooring the components listed below will at the time of sale conform to the specifications and technical data as set forth in the manufacturer's technical and promotional materials and will be free from defects in material and workmanship under normal use and service as outlined below.
Covered components are warranted to be free from defects in materials and workmanship under normal use and service for a warranty period of twelve (12) years from the date of delivery of the product to the original purchaser. All warranties that covered components conform to the specifications and technical data as set forth in the manufacturer's technical and promotional materials are as of the date of sale.
All rubber flooring and tiles are covered. No other part or component of the product or installation of the product is warranted.
PURCHASER RESPONSIBILITIES
The purchaser is responsible for:
• Proper installation of the product in compliance with the installation guidelines
• Using the product in an application for which it was designed in accordance with the Manufacturer's published technical and promotional materials and refraining from any misuse or unauthorized modifications to the product
• Properly and adequately maintaining the product in accordance with the maintenance guidelines
• Ensuring that the product is not exposed to petroleum distillates (solvents, chlorine, acidic chemicals), industrial oils or cleaning methods not approved by the manufacturer
• Notifying Kinsley of any defect promptly and in any event within sixty (60) days of discovering the defect
• Complying with all reasonable requests of the manufacturer in the administration of the warranty claim, including permitting the manufacturer to inspect any nonconforming product as installed before it is removed
• Removal and re-installation of the product in connection with warranty service unless otherwise agreed in writing by the manufacturer
FAILURE OF THE PURCHASER TO COMPLY WITH ANY OF THE FOREGOING RESPONSIBILITIES SHALL VOID THE WARRANTY
ADDITIONAL LIMITATIONS
Kinsley shall not be responsible for:
• Any use or installation which in the sole judgement of Kinsley is improper
• Preparation of a subbase not specifically approved by Kinsley
• Attachments, accessory items and parts not sold by Kinsley
• Integration of the product with other products, parts or components not covered by Kinsley warranty
• Addition ingredients at purchaser's request
• Exact matching of shade, color and color distribution
• Abuse, neglect, alteration, accident, act of God, vandalism and/or improper repair
• Purchaser's unreasonable delay in making the covered component available for inspection as installed after notice of a potential problem
• Normal wear and tear
THIS EXPRESS WARRANTY IS IN LIEU OF ALL OTHER WARRANTIES, EXPRESS OR IMPLIED, INCLUDING, WITHOUT LIMITATION, ANY IMPLIED WARRANTY OF MERCHANTABILITY OR FITNESS FOR A PARTICULAR PURPOSE. IN NO EVENT WILL THE MANUFACTURER BE LIABLE FOR INCIDENTAL OR CONSEQUENTIAL DAMAGES OF ANY KIND, WHETHER SUCH DAMAGES ARE CLAIMED ON ACCOUNT OF BREACH OF WARRANTY, BREACH OF CONTRACT, NEGLIGENCE OR STRICT/PRODUCT LIABILITY, INCLUDING, WITHOUT LIMITATION, DAMAGE TO PROPERTY OR OTHER ECONOMIC LOSSES. SOME STATES DO NOT ALLOW THE EXCLUSION OR LIMITATION OF INCIDENTAL OR CONSEQUENTIAL DAMAGES, SO THE ABOVE LIMITATION OR EXCLUSION MAY NOT APPLY TO YOU.
WARRANTY CLAIM PROCEDURE
Claims must be filed in writing and sent to Kinsley within six (6) months of appearance of defect. Kinsley reserves the right to inspect the product. No alteration, replacement, or repair may be carried out during this thirty-day (30) period. Failure to comply with this stipulation will make the warranty null and void. In obtaining refund or replacement, the original owner must submit it's claim along with this warranty certificate, original purchase invoice noting purchase date, pictures of defective products and a detailed description.