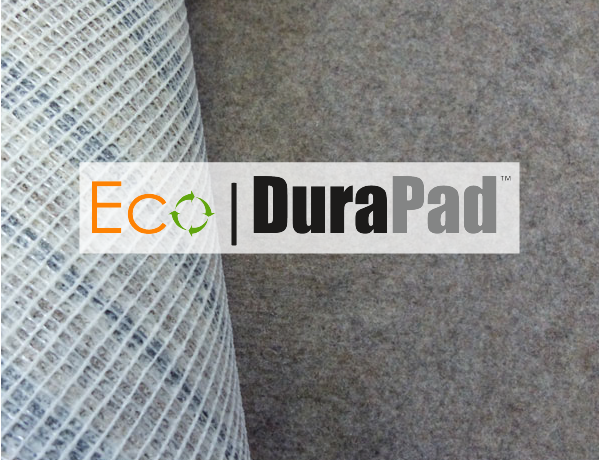 ECO DURAPAD
• recommended carpet pad for all commercial use
• constructed to resist moisture and mildew, allowing installation below grade
• superior strength to retain its density and resist bread down from moisture and wear
• offers greater resiliency than natural fiber cushions to enhance life of carpet and effectiveness of vacuum cleaning
• provides added thermal and accoustical insulation for improved guest satisfaction
• allows ease of carpet maintenance and the use of wet cleaning methods
• protects the carpet from delaminating
• meets or exceeds fha-hud flammability requirements
• provides more comfort underfoot than direct glue down installations
• non-allergenic, odorless
• slick surface for ease of carpet installation
• product type: 100% synthetic fiber pad
Colors
Weight
20 oz., 28 oz., 32 oz., 40 oz.
Thickness
.245, .300, .360, .420 (respectively)
Product Type
100% Synthetic Fiber Pad
Breathable Moisture Barrier
Resists Mold & Mildew
Thermal Insulation
Excellent Noise Reduction
Non-Allergenic & Odorless
Sustainable (100% Recycled Fibers)
Resists Crushing
Anti-Microbial Protection
Extends Life of Carpet
10 YEAR LIMITED WARRANTY
Eco | DuraPad is warranted to be free from defects in material and workmanship for as long as the original purchaser owns the premises at which it has been installed. Eco | DuraPad is warranted to perform as described for the stated warranty period when properly installed under broadloom carpet.
LIMITATIONS AND EXCLUSIONS
This limited warranty is not transferable and extends only to the original purchaser. This limited warranty shall not apply to damage or failure arising from any of the following:
• Damage due to shipment, careless handling, accidents, abuse or misuse
• Improper sub-floor preparation, failure to follow proper site conditions
• Sub-floor moisture, water or vapor emissions
• Improper installation, failure to follow all installation instructions
• Improper adhesive or thin-set (Prior to installation, contact the adhesive or thin-set manufacturer to verify compatibility
• with Eco | DuraPad which is a 100% recycled synthetic fiber pad. No warranty expressed or implied is made regarding the
• performance of any adhesive or thin-set used in conjunction with Eco | DuraPad since the manufacturing and the manner
• and condition of application is beyond our control)
• Improper care and maintenance of flooring
• Damage due to humidity; topical water damage to floor covering from spills, cleaning, plumbing failures, flooding caused
• by accidents and natural disasters, etc.
• Indentations in the floor covering caused by furniture, appliances or other heavy objects
• Damage caused by high heels, spike heels or inappropriate chair casters or glides
• Failure to use appropriate chair pads under furniture with rolling caster wheels
Normal wear during the warranty period to include but not limited to minor indentations, blemishes, or discoloration of the padding does not constitute a defect requiring replacement under the warranty.
THIS EXPRESS WARRANTY IS IN LIEU OF ALL OTHER WARRANTIES, EXPRESS OR IMPLIED, INCLUDING, WITHOUT LIMITATION, ANY IMPLIED WARRANTY OF MERCHANTABILITY OR FITNESS FOR A PARTICULAR PURPOSE. IN NO EVENT WILL THE MANUFACTURER BE LIABLE FOR INCIDENTAL OR CONSEQUENTIAL DAMAGES OF ANY KIND, WHETHER SUCH DAMAGES ARE CLAIMED ON ACCOUNT OF BREACH OF WARRANTY, BREACH OF CONTRACT, NEGLIGENCE OR STRICT/PRODUCT LIABILITY, INCLUDING, WITHOUT LIMITATION, DAMAGE TO PROPERTY OR OTHER ECONOMIC LOSSES. SOME STATES DO NOT ALLOW THE EXCLUSION OR LIMITATION OF INCIDENTAL OR CONSEQUENTIAL DAMAGES, SO THE ABOVE LIMITATION OR EXCLUSION MAY NOT APPLY TO YOU.
This warranty gives you specific legal rights, and you may also have other rights which vary from state to state. Valid proof of purchase such as a sales receipt or other document must be presented to Kinsley Carpet Mills with a detailed description of the claim. Kinsley Carpet Mills reserves the right to inspect the claim prior to any corrective action or replacement. Failure to observe this requirement may result in denial of the claim.