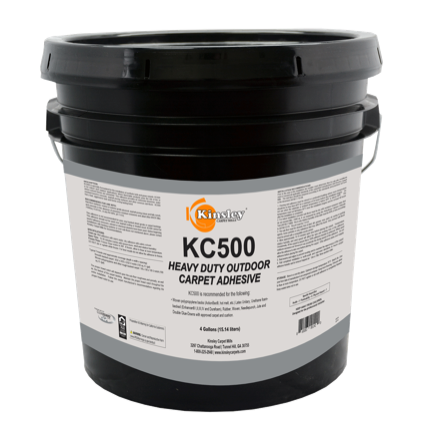 OUTDOOR CARPET ADHESIVE
Description: KC500 is specifically formulated for outdoor carpet installations and provides an extremely tenacious, water resistant bond to concrete, asphalt paving surfaces and other common sub-floors. KC500 has a fast, aggressive tack and forms a long-lasting bond.
Recommended for use with:
Woven polypropylene (Actionbac®, Unibond)
Closed-cell urethane foam (Enhancer I, II, III, IV, Durafoam and Uralon)
Rubber backings
Latex Foam
Jute
Needlepunch
Latex Unitary
Container Size: 4 gallons
Typical trowels and approximate coverage (depth x width x spacing):
Smooth backed carpets: 3/32" x 3/32" x 3/32" V notch, 125 sq. ft./gal
Rough backed carpets: 1/8" x 1/8" x 1/8" U notch, 100 sq. ft./gal
Contact us for purchasing information!